by Pallavi Mohadikar
Sep 10, 2020
DESIGNER BANARASI SAREES
DESIGNER BANARASI SAREES
All About Banarasi Silk
Banarasi sarees are Indian sarees made in Varanasi, Uttar Pradesh there is a city which is also called Banaras. The sarees are among the finest sarees in India and are known as Banarasi Silk Saree. There is a reason why some of the biggest designers in the countries still include Banarasi in their creations because of its royalty.
Finely woven fabrics it is the rich brocades in silver and gold zari, including fine designs and imprinting, the relatively heavy affair that is part of every North Indian bride's trousseau. The beauty of the Banarasi sari lies in its use of zari, rich gold and silver-colored thread work on motifs and brocade.
Origin
Banarasi silk is an unmatched example of the excellent artistry of our country. Traditional Banarasi sarees came into existence during the period of Mughals when Muslim artisans and craftsmen choose Banaras as the place to work, so they mingled well with their culture and started weaving Banarasi silk sarees.
Their special characteristics designs are inspired by the Mughal such as intricate intertwining floral and foliate motifs, kanga, a string of upright leaves called jhallar at the outer edge, and the edge of the border is a characteristic of these sarees. Weaving is depending on its pattern and designs, a saree can be made from 15 days to a month and sometimes up to six months to complete a beautiful designer Banarasi silk saree.
Waving Process
The most complicated of the whole process is weaving where saree is woven on the handloom. Banarasi sarees are woven on pit looms. The wrap of longitudinal threads are held in tension on the loom and then lifted up. The weft then is placed in a shuffle, the shuttle moves back and forth, the warp and weft threads are interwoven.
FABRIC VARIETIES
Currently, only four key styles of Banarasi sarees exist. Banarasi silks are the foremost important ones. Moreover, there will be variations like Organza and Kora with silk also as well as "zari". According to the decoration and designs, those Banarasi silks are often divided into 6 more segments. These segments completely depend upon the designs. The raw materials will not be the catalyst for those variations.
Pure silk (Katan)
Katan could be a plain silk fabric. This has woven pure silk threads that are twisted then woven into pure silk sarees. Today these sarees are produced using looms, but in precedent days Katan sarees were handwoven using handlooms.
Shattir
Shattir is that the only real fabric accustomed to work on contemporary and expensive designs under the name of Banarasi.
Organza (Kora) designed with zari and silk.
Brocades are one of the most beautiful and richly woven fabric where the patterns are patterned with different designs made by warp. Silver threads are painted in gold and are then woven closely around a silk yarn to make a figure on zari brocade banarasi saree.
Georgette Banarasi Sarees
As we all know, Georgette is a finely woven light fabric with a simple and plain weave. This is more popular for contemporary Georgette Banarasi sarees.
Designer with gorgeous Banarasi Saree drape
Sabyasachi Mukherjee
The current designers are concerned but he does some amazing ones which are not only big hits with celebrities, but real brides too. His Banarasi sarees have a huge touch of the traditional, and if that is something which you're looking for, then Sabyasachi has some amazing collection.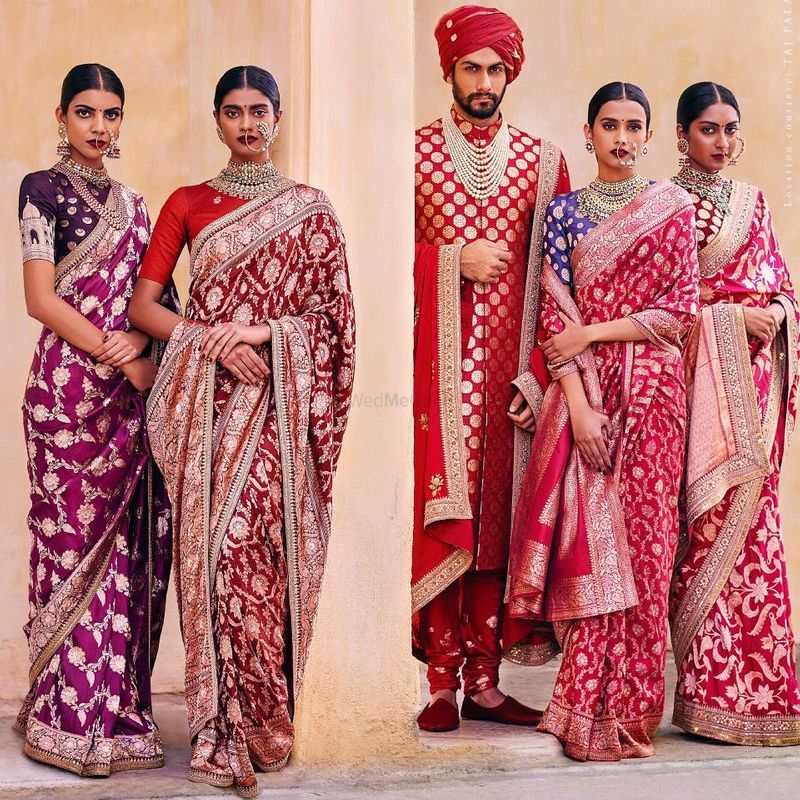 Anita Dongre
If you're looking for a Banarasi saree that's different from the traditional drapes you usually get to see here. She has some beautiful Banarasi sarees interpreted in contemporary georgette drapes, with her signature of zardozi work, which looks modern and precious!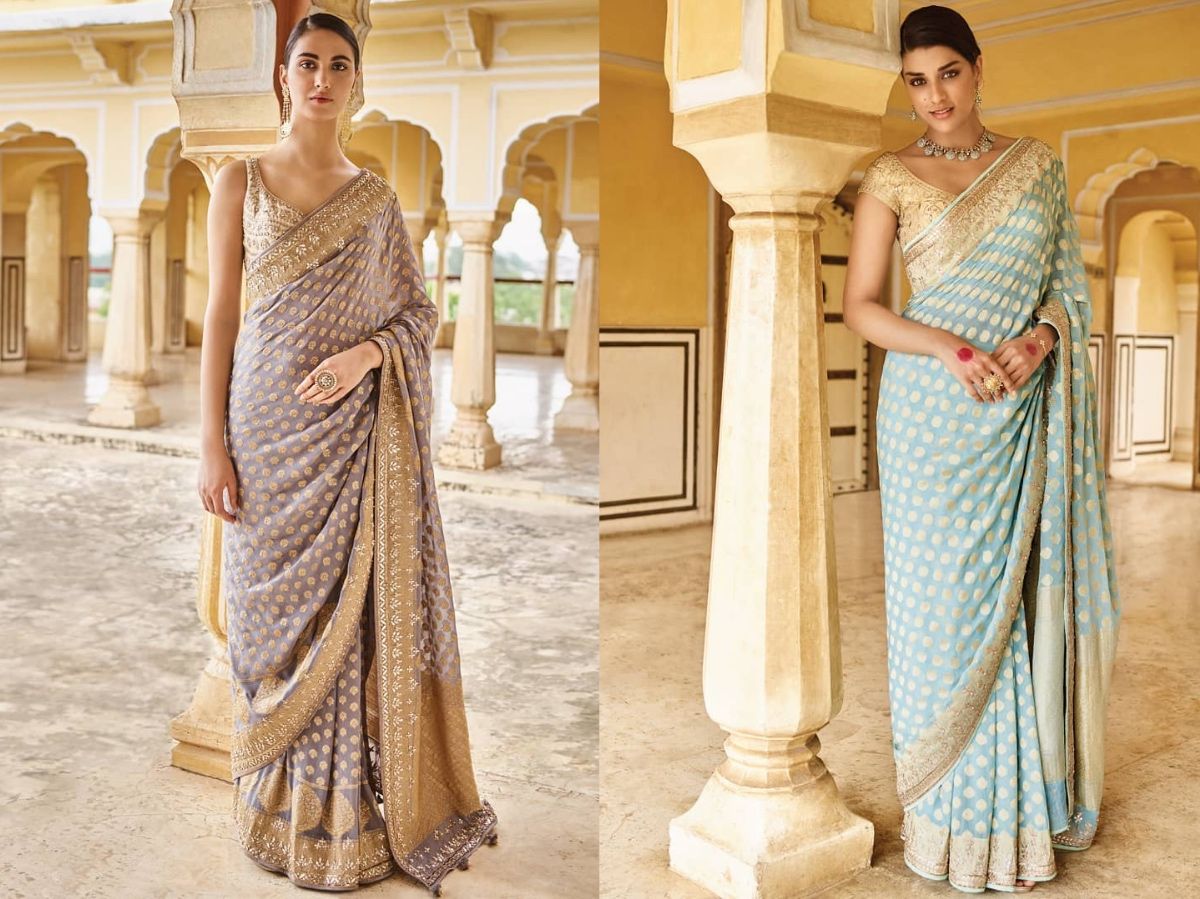 Ayush Kejriwal
Ayush, Banarasi sarees look fresh and unique, with some gorgeous hues and interesting patterns in. He even has some amazing sarees in Banarasi with precious embroidery on them too, and if you're looking for something unique, there you go!!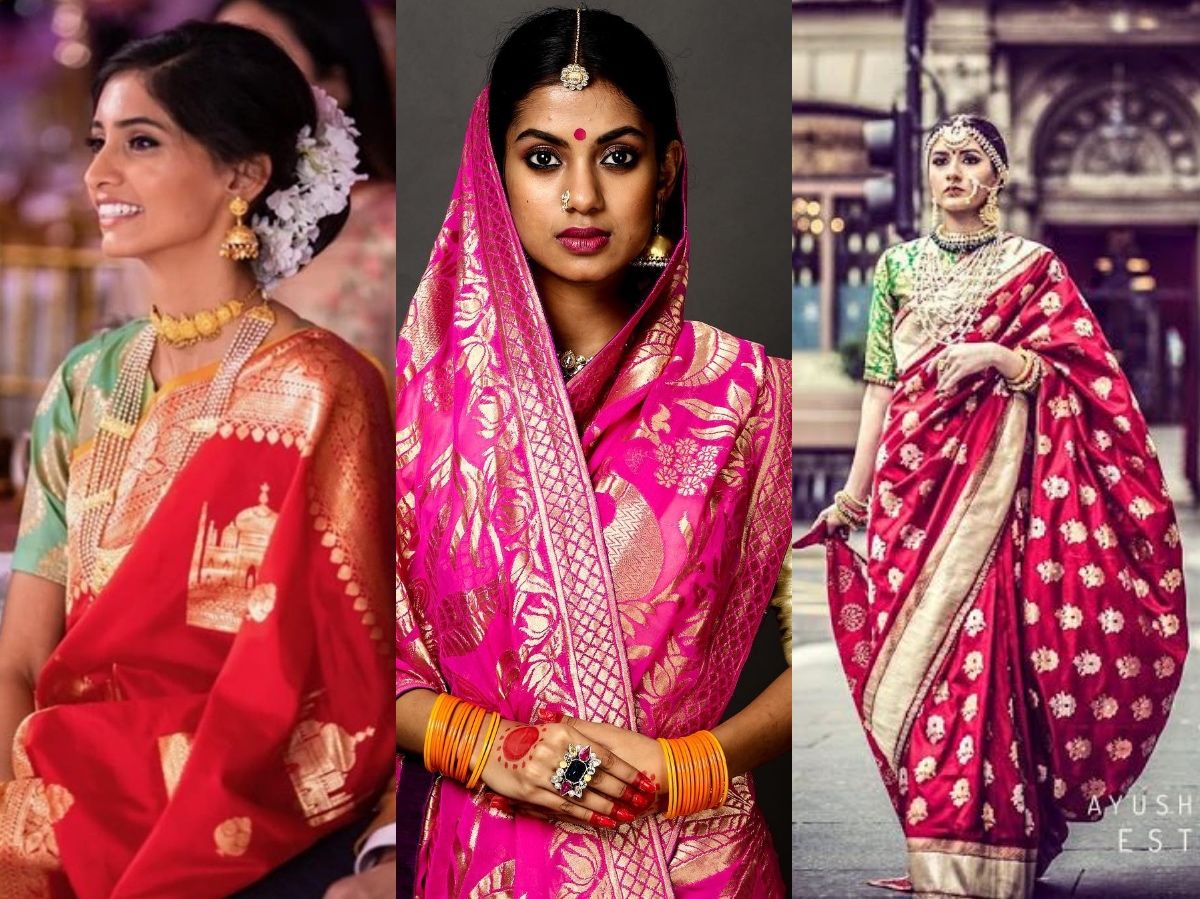 The design process in different categories
Cutwork Banarasi Sarees
These are the sarees that are not that expensive as compare to others, basically the less expensive version of Jamdani sarees. Most popular modifications featured in cutwork sarees are jasmine, marigold flowers, creepers, and leaves.
Tissue Banarasi Sarees
These have the most unique look and work of them all. These are delicately woven saree with golden zari weft which adds sheen to these tissue sarees. The most adorable designs used in tissue sarees are in the golden zari woven lotus which is floating in a radiant like a pond, where the water droplets are designed with cut-work technique. The border and pallu of the sari are printed with self woven paisleys.
Butidar Banarasi Sarees
The foremost popular and typical, Butidar sarees are richly woven, brocaded with threads of silver, gold, and silk. Gold is seen to be darker in the shade as we compared it to the silver threads. Therefore the weavers of Banaras refer to this variety of brocade patterns as Ganga-Jamuna.
How to take care of your Banarasi Sarees
It is recommended that you have to dry clean Banarasi sarees.
If you are washing at home, make sure to simply dip it in cold water a few times before hanging out to dry out.
Do not use detergent or soap in the first few washes and a clothes brush.
Do not leave the saree hanging on a hanger for too long as the crease could become permanent which can't be removed.
Try keeping them in a dark spot after wrapping them up in a muslin cloth before putting into your cupboard.
Keeping them in a dark corner can help avoid discoloration of the saree.
Iron the saree with very much care on a low setting or get it steam ironed.
These expensive sarees dry cleaned professionally is a much better idea than trying to clean them at home.